Download the APK
Now to get your pockets heavy with real cash.
So, download the APK now and you will get to know how much exactly can your pockets hold in cold hard cash. Get some tight trousers with deep pockets. You'll need them.
App Name

Teenpatti Sweet

Download link

Sweet

Bonus amount

15 rupees

Referral + Commission

20 rupees + up to 30% commission on their recharges

Minimum Withdrawal

100 rupees

Withdrawal methods

UPI, Bank Transfer

Size

49.9 MB

Similar Apps

Happy Teen Patti

,

Teen Patti Star App
How to create an account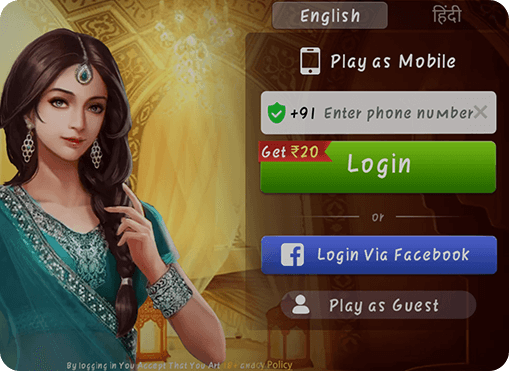 Download the app first from the official website, and then install it on your smartphone. 

Open the app, and tap on 'Mobile Login'.

Then, tap on 'Register Now'.

A small pop-up window will appear on the screen.

There, enter your mobile number in the box that says 'Input phone number here' and a strong password just below it.

Tap on 'OTP' below them. Enter the verification code that you'll receive on your mobile.

Finally, tap on 'Register' and your 'Game Account' is prepared. You'll receive 10 rupees as a welcome bonus.

But there's more to do for you in this app. For added layers of security, this app has introduced two accounts for different purposes. The first one is done. Now, move on to the second one.

To activate your 'Refer & Earn Account', first open the app and tap on 'Refer & Earn' at the bottom left corner.

You'll see a 'Sign-in' button at the top of the screen. Tap on it.

 Enter your contact number, and tap on 'OTP' again. 

Put the code in the designated box and then tap on the 'Sign Up' button.

That's it. Both of your accounts are ready now. You can now play the games, as well as earn all the referral bonuses and commissions.

There's one final thing left to do though. You still can get 5 rupees more that will complete your sign-up bonus of 15 rupees.

For that, you need to claim the 'Bind Bonus'. Just enter your name as it's on your bank account, mobile number and email address. Then, tap on the 'Submit' button, and you'll receive 5 rupees.

Everything is ready now. Just start playing and grabbing those massive bonus rewards.
Refer and earn
This app boasts a tremendous referral program, even arguable that it has implemented the best system in India overall. 
The app rewards you for every little progress you make. If you can plan them correctly and collect them regularly, you can make an earning that will surprise you to no end.
Firstly, you get a flat 20 rupees bonus for every successful referral. Whenever a friend, relative or any other individual signs up in this app using your referral link, you'll get 20 rupees instantly.
But if you're really ambitious, and you want to earn more, then there's good news for you. You also get commissions on all of your referrals' deposits or the tax amount as it's called. Whenever they do a recharge, you'll automatically receive your 30% commission. 
You'll also appreciate that there's no limit placed on this commission. However big the amount is, you'll still get your 30%, no matter what. 
Watch out now, there's more rewards coming in your direction. You'll also get another kind of bonus through your referrals, that's called Affiliate commission. In this program, you'll get 10% commission from all your affiliates. 
When your successful referrals and invitees get their own sets of referrals, those become your affiliates. It's like an unending chain of referrals, that will churn out money for you. 
There are also some Refer & Earn levels that will unlock extra rewards and will result in giving you more affiliate bonuses. As you collect more referrals, you'll go from one level to the next. These levels are: Bronze, Silver, Gold, Platinum and Diamond. 
In the Bronze level, you get an invite bonus of 10 rupees. And even to get that, you'll need to make a deposit.
In the Silver level, you'll start getting 20 rupees referral bonus, and 30% commission. You'll also get affiliate commission from two levels of referrals. It means your own friends, and the ones who are their referrals.
In the Gold level, the affiliate commission gets a larger pool of players. You get 3 levels of referrals. Your friends, their referrals, and even the referrals of those referrals.
To reach the Platinum and Diamond level is very very hard. You'll need to earn lakhs of rupees and to get an enormous number of referrals. But they're worth it, as you'll earn in astronomical numbers too. The affiliate commission gets to 5 and 10 levels of referrals respectively in these two levels.
Now, if you're interested to earn handsomely through these referral bonuses, then just follow these simple steps: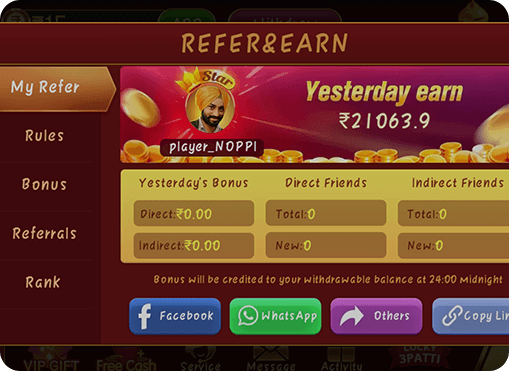 Open the app, and tap on the 'Refer & Earn' button at the bottom left corner of the screen.

In the next screen, you'll see every kind of information about your referrals.

You'll get to know all the rewards there are in this app, your current level, number of successful referrals you have, total amount of rewards you've earned in a week, your affiliates and their details.

Besides all of that, you'll see options to share your link and invite your friends. You'll get direct links to Whatsapp and Facebook. And you'll find a 'Copy Link' button that will let you share your referral wherever you wish.

Refer to the app as much as possible. As your referrals grow in number, so will be your bonus. 
How to Claim Referral Rewards
This app offers huge rewards through its several exciting bonus schemes and a very considerable rate of commissions. 
And the best part of it is that you don't need to do anything specific or pay any extra charges. All of the boundless possibilities come seamlessly to you. You have only one job: that's to keep on playing, and playing regularly. 
You'll get top-class payment methods at your service too. So, you don't need to worry about your money or your safety. 
You should rather think about how and where you'll spend the fat paychecks you've earned.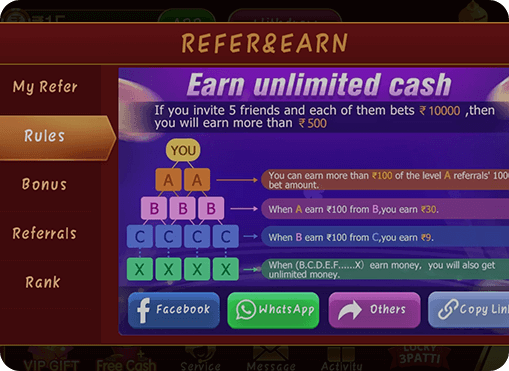 If you want to enjoy all these referral bonuses, just do the following:
Open the app, and go to your homepage.

Look for the option called 'Refer & Earn'. Tap on it. 

In the new window, you'll see many sections with different information. 

Look for the 'Claim' button, and tap on it.

Fill in your KYC details, select the payment method of your choice. 

Wait for the transaction to complete. You can check your bank balance after some time and you'll see the amount transferred.

Now, celebrate all you can.
How to deposit on Teen Patti Sweet
The deposit system is another area where the app outshines all other competitors. The minimum you can deposit in one go is 100 rupees. But for those who are more adventurous or believe 'no risk, no gain', there's an option to deposit 20000 rupees.
You'll also receive huge amounts as extra cash bonuses for every deposit. This bonus starts at 10% of the deposit, and goes all the way up to 100% of the amount. It's unbelievable, and no other platform can match this bonus from the Teenpatti Sweet app.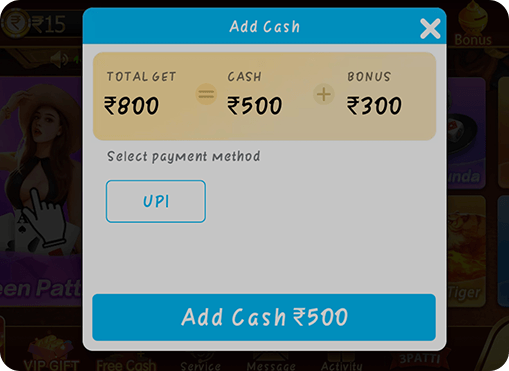 This is how you can make a deposit to your account:
So, just follow these steps to make a deposit and enjoy the bonus:
Open the app, go straight to your homepage. You'll see the 'Add Cash' button at the bottom right corner of the screen. Tap on it.

You'll see some options for the deposit amount. These are: 100, 300, 500, 1000, 1500, 3000, 5000, and 20000.

Tap on the amount you wish to deposit, and then tap on the 'Add Cash button' at the bottom.

Choose your preferred payment method. There's UPI, Bank Transfer and Paytm.

Then, you'll be transferred to the payment page. Complete the transaction.

After a successful deposit, check the in-game wallet balance. You'll see the amount added in it.
Now, any deposit over 100 rupees will give you an additional cash bonus. The percentage of this bonus is dependent upon your deposit amount. The more, the merrier. Here's how much you can get with various deposits:
| | | |
| --- | --- | --- |
| Deposit Amount | Bonus Percentage | Final Deposit |
| 100 | 10% | 110 |
| 300  | 25% | 380 |
| 500 | 40% | 700 |
| 1000 | 60% | 1600 |
| 1500 | 66% | 2500 |
| 3000 | 100% | 6000 |
| 5000 | 60% | 8000 |
| 20000 | 15% | 23000 |
How to withdraw money on Teen Patti Sweet
After winning games and collecting those heavy bonuses, you'd naturally want to put the money to some use. Celebrate with it, go shopping crazy or whatever you've planned, it needs to hold on for a little more.
Because first, you'll need to get that money in your bank account from the app account. And for that particular purpose, this app has built a robust and efficient withdrawal system. The minimum withdrawal amount is set to just 100 rupees, which you can earn in one day if you can set up a strong network of referrals and get the bonus systems up and running. But if your kind of celebration is a bit more demanding, then you've got an option to withdraw 50000 rupees in one go as well (you'll need to unlock it through your VIP level though).
Another great thing about this withdrawal system is that you won't require any kind of KYC verification. So, every withdrawal will reflect in your bank much faster.
As this app puts your money in two different accounts for security reasons, you can opt to withdraw money from only one or both of them. It's your choice.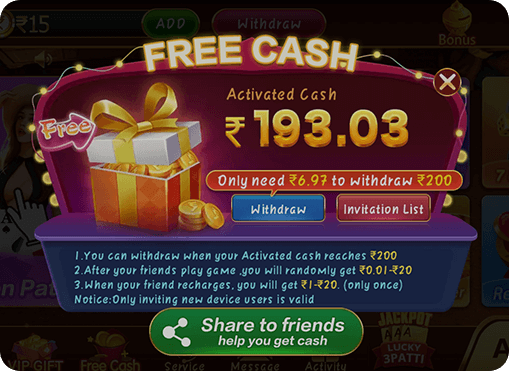 Here's how you can withdraw from both of them:
To withdraw from your Game Account, first open the app. 

On your homepage, look at the top of the screen. You'll see a golden icon named 'Withdraw' right in the middle. Tap on it.

Select the amount you want to withdraw, enter your bank details like the account number, IFSC code, contact number etc for Bank Transfer, or the UPI address of your choice. Tap on 'Submit'. 

Your request will be processed within 1 hour generally. If something unforeseen happens, it may take upto 48 hours. Check your bank account for confirmation.

To withdraw from your Refer & Earn Account, open the app, go to the homepage, and tap on 'Refer & Earn' placed at the bottom left corner.

Click on 'Withdraw' on the next page. Then, do the same as described in Step 3. 

When the withdrawal is successful, check your account, and you'll see a hefty sum of money credited.
How to play on Teen Patti Sweet
The app is capable of offering easy gameplay, big rewards and 100% fun all the while. But to unlock its full potential, you need to dive deep and play the rollicking games: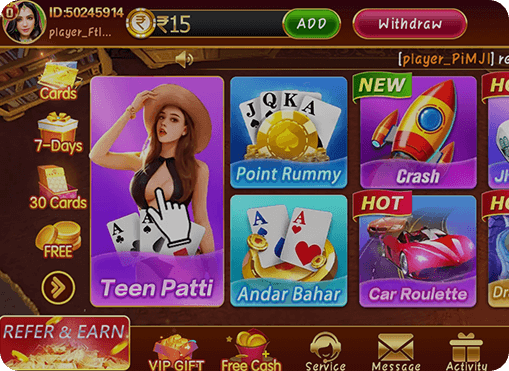 First, open the app and log into your account.

You'll get every bit of information you'd possibly need right at the homepage.

Check your earnings at the top left side. 

In the middle, you'll see all the games available. Each as exciting and thrilling as the other.

If your love for Teenpatti is real, then you're in the best place possible. Play to your heart's content, and the more you play, the more you win and the more rewards you have a chance to grab.

There are other popular card games ready for playing too. All of them hand out real cash prizes. India's most popular games like Rummy and Andar Bahar are also there. Place bets and win crazy amounts of cash.
Bonuses on Teen Patti Sweet app
This app has been giving out huge amounts of bonus in deposits and commissions already. 
But going above and beyond to satisfy and enthrall players, they've also put a couple of extra bonus schemes inside the app.
These will increase your earning much further. These bonus schemes will make the games even more engaging, and the app experience even more rewarding.
7 Days Daily Bonus
You can earn a very handy amount of cash in the first 7 days after signing in the app. 
The app hands out small amounts of bonus cash daily, that you can easily claim by going to your homepage, and then tapping on the 'Daily Rewards' button placed in the column at the left side of the screen. 
You can earn a maximum of 140 rupees in these 7 days. It's a good amount that you'll get for free, without playing or depositing anything.
Here's how it will all unfold:
On Day 1, you'll get 2 rupees.

On Day 2, you'll get 10 rupees.

On Day 3, you'll get 3 rupees.

On Day 4, you'll receive 15 rupees.

On Day 5, you'll get 5 rupees.

On Day 6, you'll get 5 rupees again.

On Day 7, you'll receive up to 100 rupees. The exact amount will be selected randomly.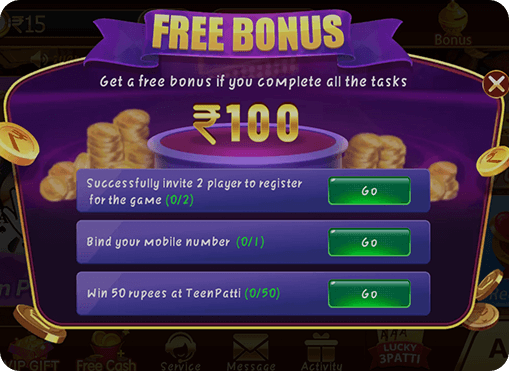 Lucky Spin Bonus
It's another solid way to earn extra cash in this app. You'll need only two things to have a Lucky Spin, and those are 300 rupees and a little bit of luck.
And it's not like that the 300 rupees are charged for the spin. You're just asked to deposit 300 rupees in your account to have a chance to spin the wheel. You can use those 300 rupees in playing games and placing bets.
Add 300 rupees for one spin, and then it's all your luck. You can win 6 different amounts in the Lucky Spin wheel. These are: 30, 100, 250, 500, 1500 and at its most, a whopping reward of 2500 rupees.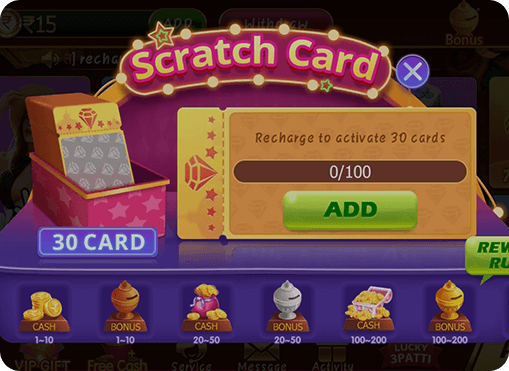 Games available in Teen Patti Sweet
It's easy to play any game in Teen Patti Sweet app. It will be one of the most rewarding experiences as well. So, get ready and dive in.

Teen Patti

AK47 Teen Patti

Royal Teen Patti

Baccarat Teen Patti

Rummy

Andar Bahar

7 Up Down

Jhandi Munda

Red vs Black

Baccarat AB

Dragon vs Tiger

Beach Slot

House Racing

Win Go
Features of Teen Patti Sweet
There's a whole lot of special features in this app, some of which can leave you speechless.
All of these features will make your gaming experience more enjoyable and your payout much greater. Here are some of the features:
VIP Membership
You can enjoy special rewards, extra cashbacks, and daily rewards in Teenpatti Sweet with VIP membership. 
To start off your journey and get to VIP Level 1, you just need to deposit 100 rupees. Just tap on the 'VIP' icon at the left column in your homepage, and deposit 100 rupees to get on board.
For the next 30 days, you'll reap the rewards. Every day, you'll get a 1 rupee daily bonus that you can claim easily by tapping that same VIP icon, and then tapping on 'Get 1 rupee'.
After 30 days, if you want to upgrade your VIP level, just recharge with the amount shown at the top of the VIP page. Higher ranks will need bigger deposits.
You'll also be eligible for a cashback bonus in all the games of this app, whenever you defeat a higher VIP ranked player.
There's more. You can withdraw more money as you go through the VIP levels. The better ranked you are, the bigger your withdrawal limit will be. Here's how it goes:
| | | |
| --- | --- | --- |
| VIP Level  | Number of Maximum Withdrawals | Daily Withdrawal Limit (Total) |
| VIP 0 (Non-VIP) | 1 | 500 |
| VIP 1 | 2 | 1000 |
| VIP 2 | 2 | 2000 |
| VIP 3 | 3 | 8000 |
| VIP 4 | 3 | 15000 |
| VIP 5 | 3 | 20000 |
| VIP 6 | 4  | 30000 |
| VIP 7 | 4 | 40000 |
| VIP 8 | 5 | 50000 |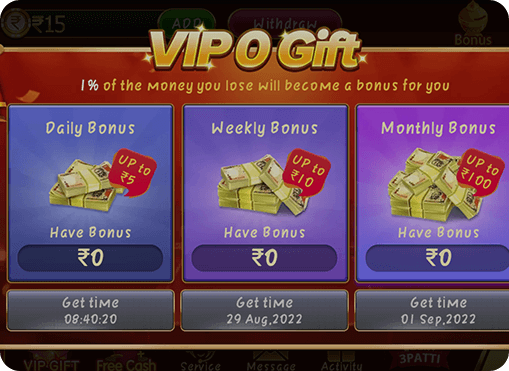 Ease of use
It's heavily underrated, but every player feels the lack of it when it's not in place. It's the ease of use. And this app has aced in that regard.
You can get every important information right in the homepage with an uncomplicated layout.
Variety of games
There are so many kinds of games in the app that if you love playing cards and betting, you'll have a ball. There are simple card games, and then there are some that take a little bit of skill as well. But every game shares the same electrifying nature. 
Aesthetics
The app is full of colors, looks good and sems professionally designed in every level. Everything seems to be at its place, and nothing looks out of order. With that kind of design language and app architecture, the navigation becomes all too easy.
Is Teen Patti Sweet legit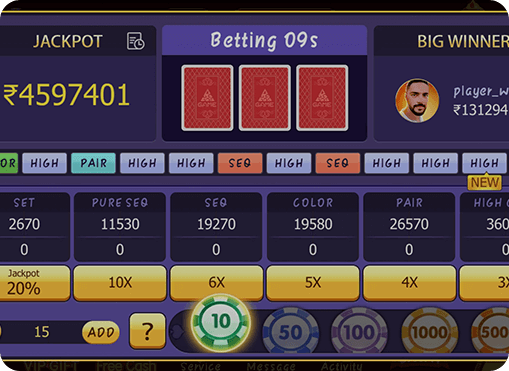 This app is absolutely safe and a completely legitimate platform for all sorts of online gaming and betting. They also provide fully secure channels like UPI and IMPS for all kinds of transactions. 
I've tried it myself, and all the deposits and withdrawals go through instantly. The whole commissions and rewards system work flawlessly too.
Their certification adds another layer to their legitimacy. I've never felt insecure inside the app in my personal experience. And I've enjoyed the hell out of it.
 So, don't worry too much. Enjoy your time playing games and making some big money. Rest of the things will be expertly handled by the app itself.
Payment proof of Teen Patti Sweet
Teen Patti Star has every kind of safety protocol you'd ever need. All its payments are completed through safe and secure methods.
Both UPI and IMPS are built from scratch by the Government of India. So, you get the backing of the whole financial system of the country. 
I've experienced the same in my time of playing in the app. You can take a look at this screenshot of the last successful payments I received: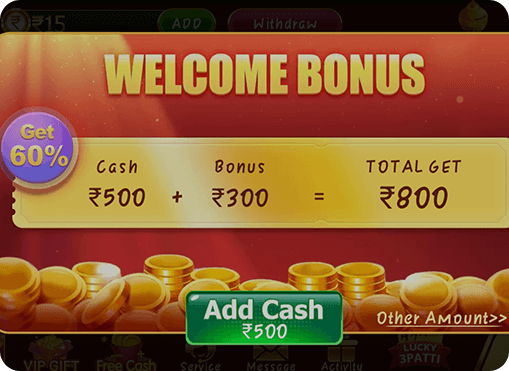 Teen Patti Sweet Customer Care
If you run into any kind of technical problem or have a query of your own; there's a top-class customer support team waiting to serve you.
The customer care can be contacted through Whatsapp and in-game. You can connect with them from built-in systems.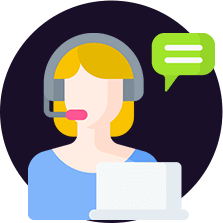 Teen Patti Sweet FAQ
How much will I get for signing up in the Teenpatti Sweet app?
You'll get 15 rupees in total for signing up. 10 rupees will be given after registration, and the rest labeled as 'Bind Bonus' will have to be claimed by you inside the app.
What is the minimum withdrawal that I'll have to make in this app?
You'll have to withdraw a minimum of 100 rupees.
What is the maximum withdrawal amount?
Generally, it's set at 20000 rupees. But through unlocking VIP levels, you can take it up to 50000 rupees per day.
Can I submit multiple withdrawal requests in the same day?
Yes, you can do that, but only after unlocking VIP level 1. On level 1, you get to request twice in a day. And if you keep playing regularly, and get to VIP level 8, you can request for withdrawals 5 times a day.
Will I get something extra for my deposits?
This app has a beautiful structure to reward you for every deposit you make above 100. The bonus cash starts at 10% of the original amount. But I'll advise you to go for 3000 rupees every time. You get an unimaginable 100% bonus for a 3000 rupees deposit. So, 3000 out of your pocket will turn to 6000 rupees in the app.
Is there any VIP membership in this app?
Yes, there is. And all it takes to become a VIP is a 100 rupees deposit.